2019 has been an amazing year in so many ways. I began the year by committing myself to putting my drive passion and energy into projects that I love I truly believe in.
'Where focus goes, energy flows'
I started January 2019 working with the British Embassy in Tirana, Albania, with the UK Albania Tech Hub. Working with these amazing young entrepreneurs, who are so talented, is an experience that I thoroughly enjoy. As a global Learning and Development consultant, I welcome the opportunity to travel and immerse myself in the culture of the country I am visiting.
February, was red letter month! I had the life changing experience of going to Buckingham Palace with my family to receive my MBE. As someone who came to the UK when I was six years old, I never dreamed that I would ever be invited to visit the Palace. I love the world of business and I love working internationally. To be honoured for my contribution to business and export, makes this one of the most memorable moments of my life.
In March, I was invited to take part in a panel on the launch of the Rose Review of female Entrepreneurship, which coincided with International Women's Day. The goal of the review is to tap the huge unrealised economic potential of female entrepreneurs by making the UK one of the best countries in the world to start and grow a new business. It was an extremely interesting discussion looking at what barriers are facing women and how these can be overcome. Following this we were invited to have lunch at Coutts, which involved some great networking opportunities.
April – For the first time I had the opportunity to be a judge for the IOD Director of the year awards, it was a challenging experience because you have to read approximately 30 applications, short list and then meet with your fellow judges and discuss your choices, coming to a decision. It gives great insight into the hard working, interesting and creative business that we have. Attending the Director of the year award and seeing everyone receive the well-deserved recognition was an evening of glitz and glamor.
June – As an Export Champion, I was invited to the department for international trade summer reception at Lancaster House, London. Where we had the opportunity to listen to and meet the Rt Honourable Dr. Liam Fox. It was such a lovely evening, an excellent opportunity to hear about the UK's plans for future regarding exporting and to network in beautiful surrounding.
June was also the month when I celebrated 21 years since I established my consultancy OSR. To celebrate we held an evening celebration event for all our clients to thank them for their support. This was held at the Chuck Gallery, Seymour Grove, this is the first BAME gallery in Manchester celebrating Caribbean and African art. It was good to support the gallery and also a good venue to launch our diversity and inclusion development programme for business and boardrooms. Thank you to all my clients, friends and family for coming along to support me.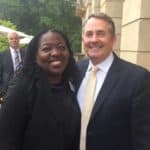 July, I firmly believe that it is important to develop yourself and this mean that I always invest in my own learning. In July of this year I went to the 25th Essence festival in New Orleans. This was a chance to listen to the wisdom of international entrepreneurs of film, business, politics etc. The line-up included Michelle Obama, Tyler Perry, Ava DuVernay film producer of 'When they see us', for entertainment we saw Mary J Blige, and Mary Mary singing shackles! I came back energised, revitalised and motivated.
August, I was born in Dominica in the Caribbean, one of my long-term plans, having worked in over 25 countries around the world, is to expand the OSR brand to work in the Caribbean. In August, I travelled to Antigua and Dominica and spent some time meeting potential clients and generally networking. My mum and sisters also live there so I spent some time visiting family as well. The networking has already borne fruit with a potential opportunity in 2020, so watch this space …
September, working with the CIPD, I was asked to deliver a facilitation session to the Commonwealth Secretariat. It was such a privilege to work at Marlborough House, I met some lovely people and spent the whole day at  the Commonwealth Headquarters and even visited the room where all the Heads of the Commonwealth have visited at some point, including the amazing Nelson Mandela.
October – We are starting some interviews with some of our clients, these are clients who we have worked with and have agreed to share their experience of being a modern leader.  We have filmed our first interview with Sam Ashton for Packaging Automation in Knutsford. Sam shares her experience of being a leader in a manufacturing industry which is male dominated and being a leader whilst being a mother of twins. Well worth listening to!!
November, when I am working with clients as an executive coach, I always ask if they are working in their business or on their business. For a business to grow we have to take a step back, and work on our vision, goals and objectives. So, for the month of November, I spent some time planning and working on our new OSR Virtual Leadership Academy and the launch of the Virtual Global Leadership Programme. This is in response to our clients saying they love the programme, but could they access the programme online, so we are in the process of doing this, allowing anyone to subscribe and access the learning anywhere in the world. Once again watch this space…
December – I love working with leaders, developing and coaching leaders. In December I joined the team at University of Manchester as a consultant delivering the 'Leading at Manchester' programme. A thoroughly enjoyable experience working with some innovative and creative people! Looking forward to the next 7 sessions.
Last year I spent Christmas day with my Son Ricky Strachan and his family and this year my daughter Rhia Boyode invited the whole family to her home.
I am a very lucky woman, to have a lovely husband, children and grandchildren to enjoy Christmas with. I wish everyone all the very best for a happy and healthy new year and look forward to  catching up in 2020.
Best wishes from Olive and the team at OSR.