Diversity & Inclusion:  A lived experience
Rethinking workplace diversity
Tuesday 23rd March 2021 – 16:00- 18:00
#d&ialivedexperience   #positivechange  #rethinkingworkplacediversity #mindsetmatters
We are delighted to announce that Gemma McCall will be joining our line-up of speakers on Tuesday 23rd March for Diversity & Inclusion:  A lived experience when we rethink diversity in the workplace.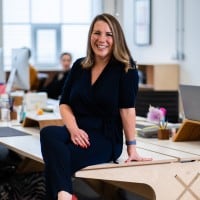 Gemma is a proud working mum of 2 and the CEO of Culture Shift, a tech-for-good business which she co-founded in 2018.  We exist to lead positive change in organisational culture and our products empower organisations to tackle harassment and bullying.  Early in 2020 Gemma successfully led a £1.3million fundraise for Culture Shift, and has since then tripled the size of her team.
As a female tech entrepreneur, she is passionate about using technology to speed up the rate of positive change across the world.  She's also a respected voice on issues around harassment in places of work and study, often being called on by high profile organisations such as the Equalities and Human Rights Commission to contribute to their reports.
Join us on Tuesday 23rd March 2021 for a live discussion on equality & diversity in education and employment and help lead positive change.